Band and String Ensembles Stage Festive Winter Concert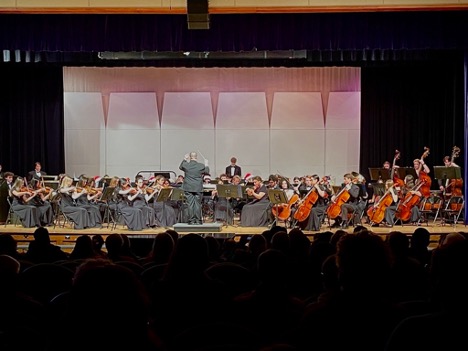 The Wind Ensemble, String Orchestra, Arietta, Chamber Strings, and Symphonic Orchestra debuted their holiday concert with great spirit on Wednesday, Dec. 14.
The String Orchestra, directed by Mr. Eric Schaberg, opened the concert with the rousing piece, "Fire in the Forge" composed by Ted Allen, and continued with "Christmas Eve/Sarajevo 12/24," composed by Paul O'Neill and Robert Kinkel and arranged by Bob Philips, which featured junior Evan Shapo accompanying on piano.
Pieces from both band and string ensembles included familiar tunes and holiday favorites, including Wind Ensemble's final piece, "A Christmas Festival." "The piece put me in such a festive spirit," senior principal clarinet player Katrina Lanese said. "I also think that we executed the style changes well as we transitioned from one medley to another, so it was gratifying to hear that as we were playing it."
Comprised of advanced band players and directed by Nick Fantazzi, Wind Ensemble played two other pieces: "Fanfare for the Festival of Lights," featuring junior Kevin Tish on trumpet, and "To Dream with Open Eyes," with solos from senior Autumn Carmona on trumpet and Lanese on clarinet.
Next onstage was Randolph's most selective string orchestra, Arietta, which played three movements from the "Suite" from "Peer Gynt," composed by Edvard Grieg and arranged by Barrie Carson Turner. More string players later joined them to form the Chamber Strings orchestra. They masterfully played Paul Lavender's arrangement of Waltz No. 2 by Dimitri Shostakovich and supported senior violin soloist Leah Kvares in her beautiful performance of "Violin Concerto No. 9" by C.A. de Beriot.
"Leah's violin concerto was so incredible to play with," said senior Isabel Kao, an Arietta and Chamber Strings violinist. The time Kvares put into the piece and her love for the instrument were evident in her performance; she played the entire movement standing proudly with no music in front of her, having memorized the notes. "She is an amazing soloist," Kao added.
To conclude the night, members of the band and string ensembles united to form the Symphonic Orchestra, directed jointly by Eric Schaberg and Michael Lichtenfeld. They played two pieces greatly enjoyed by audience members and musicians alike: "Superman Returns," composed by John Williams and John Ottman and arranged by Bob Cerulli; and "Phantom of the Opera," composed by Andrew Lloyd Weber and arranged by Calvin Custer.
"My favorite piece to play was 'Phantom of the Opera' as it's a super active and dynamic piece, making every line exciting for myself and the audience," Kao said. "It was also nice to pay tribute to the play coming to an end," she continued, referencing the long-running Broadway production's conclusion in April of 2023.
The performers and audience left the concert enlightened by the wonderful talent from Randolph High School's very own musicians and feeling a new glimmer of holiday spirit. "I'm proud of the sound we were able to produce," said Lanese, reflecting on the group's performance. "I'll be looking forward to all our future performances to see how much we can improve from here."