College Commitment Trends for RHS Class of 2023
The May 1 college commitment deadline has come and gone for the members of the RHS Class of 2023. As shown on the Randolph23commits Instagram page, the colleges the current seniors committed to are as varied as the students themselves, though there are some noteworthy trends.
Top Commitment Schools

Penn State, which is always a popular choice for RHS students, had the most commitments for an out-of-state college on the Instagram page, with a total of 13 students. "They gave me the biggest opportunity for the career I want to pursue, which is business," said senior Kyle Bachrach of his decision to commit there. "I just saw myself there. My family's been there. I feel comfortable there," he added.
Rutgers continued its popularity, tying Penn State with 13 commitments on the Instagram page. "I chose Rutgers because I could see myself learning and living there for four years," senior Josh Bodnar said.
South Carolina increased in popularity this year, getting 10 commitments on the Instagram page, which is at least two more than last year, tying it up with University of Pittsburgh. "I committed to South Carolina because, in addition to their strong academics, I felt like it was a home away from home," senior Leonardo Hernandez said. "I felt comfortable, welcome, and I felt like I could see myself living there."
University of Pittsburgh commitments drastically increased this year, with at least six more than last year, for a total of 10 for the RHS Class of 2023. "I  chose Pitt because it's literally just beautiful," senior Isabel Kao said. "If I'm going to spend the next four years or more of my life somewhere, I want to love the place, and the whole small city atmosphere of Pitt really caught my eye. The ambiance Pitt creates with its old cathedrals and modern buildings makes the whole place seem more exciting and fun."
A Changing Admissions Process
"The college admissions process post-Covid is very different than it was years prior," said Cheyenne Finocchiaro, an RHS guidance counselor. Finocchiaro explained that one reason for this is the test-optional policy that many schools have recently adopted.
Due to increased competition from applicants, more students were also either waitlisted at their top schools or accepted but not for their desired major. "Because of this, we are starting to see more students committing to their second or third choice schools," Finocchiaro said. "Either way, we are excited to see all of the places our seniors will go."
Athletic Recruits
Numerous Randolph student athletes are taking their athletic ability to the next level and committing to colleges to play their sport. Senior Kiersten Tinio committed to Misericordia for softball. "I feel excited and accomplished to continue my softball career in college, and I am so glad to have this opportunity," she explained.
Tyler Holland chose to commit to Stevens Institute of Technology as a lacrosse recruit "because of the job opportunities that Stevens Tech brings and the location in Hoboken. It's connected to New York City and and interconnected with NY businesses," he said. "It's also a very good lacrosse program."
Below are two charts comparing college commitment stats for the RHS Class of 2023 with those of the Class of 2022. The charts convey trends regarding commitments at some of the most popular colleges for RHS students as well as Sports and Honors College commitments.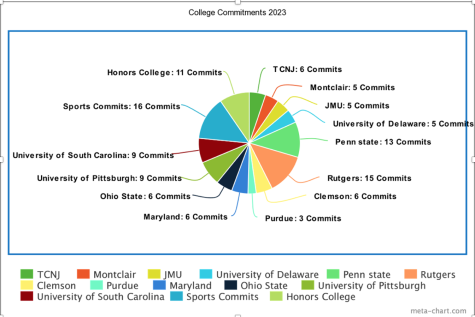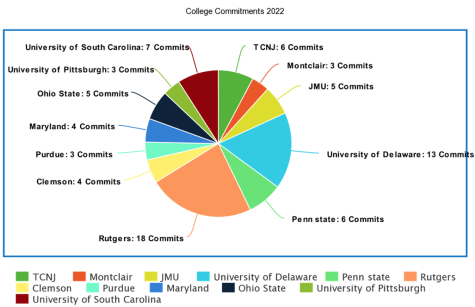 Editor's Note: All stats are based on student postings on the Randolph23commits Instagram page and the RHS22commits Instagram and do not reflect the total number of commitments for each class.