Featured Athlete: James Kleiven, Baseball Pitcher and Outfielder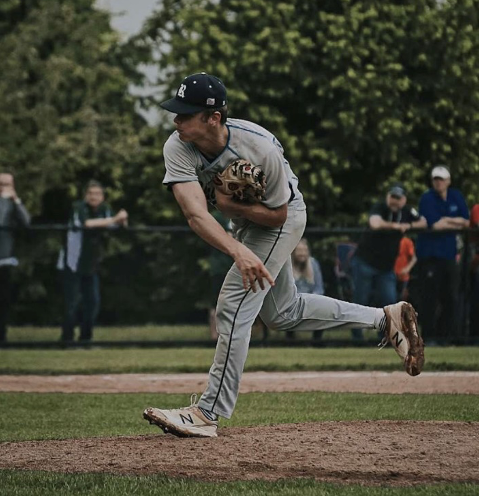 Junior star pitcher and outfielder James Kleiven is ready to lock in along with the rest of the team as they play their first game in the state tournament as the No. 3 seed, facing Nutley (14) at home at 4 p.m. today.
Kleiven has been playing baseball for Randolph for nearly his entire life, starting in T ball and continuing all the way to high school. His hard work and dedication to the game earned him an offer to play Division 1 baseball at James Madison University, which he verbally committed to on Aug 23, during the summer after his sophomore season.
This season, Kleiven pitched 36.1 innings with 48 strikeouts and a 4.24 ERA (Earned Runs Allowed). Offensively, Kleiven has a .283 batting average and is tied with fellow junior Rocco Albano with three homeruns. Kleiven's performances on the mound and at the plate have played a major role in the team's 13-11 success during his second year at the varsity level.
"Making Varsity when I was a sophomore was a cool experience," Kleiven said. "Being able to make the impact that I did for our team gave me confidence, and my teammates motivated me to do even more."
Head Coach Mark Rizzi has seen Kleiven develop into an outstanding talent in all aspects of his game in the short time that he has coached him. "His development since the beginning of last season has been impressive," Rizzi said. "When he steps on the mound, his teammates have full confidence that we have a chance to win. That's a huge compliment from your teammates. I can speak for the coaching staff that we feel the same way."
"He puts in the work, day in and day out at every practice and it obviously," junior teammate Rocco Albano said. "He deserves this commitment more than anyone I know. He is a great athlete, a great teammate, but most importantly, a great friend."
Kleiven's teammates agreed that he has a way of boosting the team's confidence when he steps onto the field and has played a vital role in the team's success this season. With the season ending, Kleiven and the rest of the team are ready to give it their all as they look to win the New Jersey state tournament.