National Art Honor Society Students Create Portraits of Children in India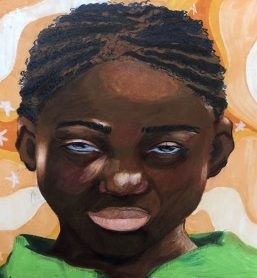 Fourteen talented student artists at RHS, in collaboration with National Art Honor Society (NAHS) students across the world, are currently creating portraits for the Memory Project, a youth arts organization that promotes intercultural understanding and kindness between children around the world.
Each participating artist at the high school received a photo and details about a designated child and was tasked with drawing a portrait reflective of the child's identity. This year, the artists are working on projects for children in India.
"The Memory Project is something that NAHS was participating in before I started working here, and we still do it today," said art teacher Jennifer Beaver, the honor society's advisor. "It focuses on giving back to children who live in poverty, orphans and other children in need."
RHS senior Rachel Gontarski, the NAHS chapter president, and senior Vanessa Baron, the vice president, are leading the team of students currently working on the project. The students work on their own time to complete each piece, which contributes to their NAHS membership requirement of fulfilling at least 20 hours of work on art projects.
To begin the project, Memory Project founder Ben Schumaker sent the NAHS students photos of each child along with personal information to help direct the artists in creating a portrait that would be reflective of the child's personality.
The students used graphite transfer paper to sketch and lay the foundation for the portrait. They then exercised their creative liberty to use the art supplies of their choice to enhance each portrait. In the past, students have used pencils, watercolor and many other supplies and techniques.
"Often our students would incorporate the children's favorite color into the project," Beaver said, noting that the children's hobbies are also popular details to include in the portraits. In one instance, in order to convey a Nigerian child's love of music, the artist incorporated musical notes into the portrait.
The finished portraits are sent to the Memory Project home base to mail to the children. The personalized art is meant to spread joy to both the artists and subjects, as it helps children in challenging parts of the world to see themselves in a new, colorful and creative light.
According to Memory Project literature, more than 300,000 youth in 55 countries have been involved in organization's school-based programs since 2004.