Season Preview: Boys Tennis Aims for Strong Spring Season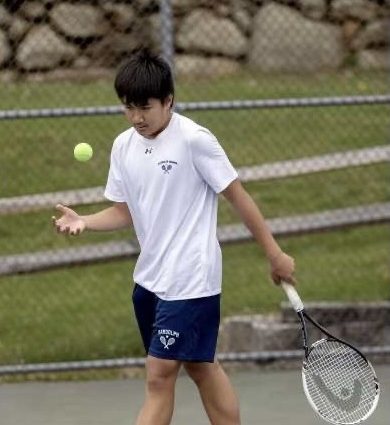 With the season-opener match coming up on April 4, Boys Tennis is looking to improve upon last year's disappointing 4-14 record. They hope to do this by not only by filling key spots in the lineup with strong returning players, but also moving to a new division where RHS will be more competitively matched against its opponents.
"Our goals for this season are to improve from last year, both in terms of our regular season record and our finish in the state tournament," Coach Dan DiNozzi said. "Last year we won our first-round state match and lost in the second round, so we will look to improve on that finish."
Added senior player Brett Isralowitz, "We're trying to win our conference and make it far in states and counties."
At the end of last season, two of the top players graduated from RHS; senior Justin Grant played first singles and senior Colin McCormack played doubles, so the team needs to fill two key spots in the lineup. In order to do this, Coach DiNozzi will look to strong returning players in the varsity and upper junior varsity lineup.
The team has some lofty goals despite losing these key seniors. "They have brought years of experience to our program, so it is never easy to replace them," Isralowitz said. "We lost our first singles player and captain Justin Grant, but being in a new conference, we are looking to have a much better record this year."
The team is also confident that they will be well led by Coach DiNozzi, who is known for being passionate about coaching as well as the game itself. Team members see him as a strong leader who sees the best in his players, creating a winning mindset for the team, which is always focused on improving.
DiNozzi said he has learned from last season's mistakes and is working hard to ensure that his players do not repeat them this year. This creates a highly motivated team with a strong work ethic.
Coach DiNozzi's coaching style and personality also help create an environment that the players enjoy. "My favorite part is the friendly competition and how we push ourselves to be better," Isralowitz said.
"The atmosphere is fun and the competitive spirit is cool," junior player Kevin Tish added.
"My favorite part of coaching the boys team is the sense of camaraderie that comes from being together over the course of the season," DiNozzi noted. "Helping a team to come together to root for and pull for each other throughout challenging times in a season is always rewarding. In the process, helping to pass on any knowledge that I have about a sport that I am passionate about is also enjoyable."
The mix of competitive spirit and comaraderie can only help the Boys Tennis team produce great results this season.