Boys Hockey Falls to Ramapo in State Quarterfinals, Ending Season for Rams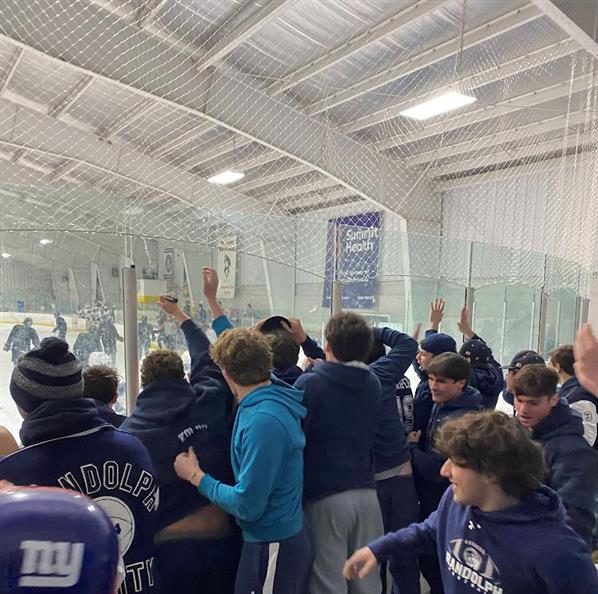 The Boys Hockey team suffered a season-ending loss to Ramapo, 3-2, in the second round of States on Monday, Feb. 27, at SportsCare Arena.
The team skated off the ice with an impressive 14-4-4 season record, with senior Zach Gallo leading in goals and sophomore Jase Zangara leading in points and assists.
"We prepared for States while knowing we'd have to bring our game up another level," senior captain Connor Thomas said. "Unfortunately, after a couple breakdowns in the matter of a minute in the first period, we were left crawling back from behind the rest of the game. It was a disappointment as this is where we were stopped last year. We were for sure ready to have a longer run, but some things end as fast as the blink of an eye."
At Monday night's game, Randolph started strong, putting pressure on Ramapo's defense for the majority of the first period. Ramapo was able to take back the puck however, scoring twice within 30 seconds. Despite the Rams' best efforts, Ramapo was able to hold the score at 2-0 at the end of the first.
Zangara was able to cut the deficit to one, scoring halfway through the second period, with assists from Brian Cislo and Shane Melly. Ramapo was able to strike back on a power-play goal with three minutes left in the period, which ended 3-1.
Randolph was determined to come back going into the third period, with Gallo scoring in the first minute. Randolph continued to push offensively, acquiring 30 shots on goal. However, Ramapo's defense did not break until the final whistle, concluding the game 3-2.
Randolph had an impressive season, reaching the Mennen Cup finals and achieving third seed in the State tournament. The team totaled 92 goals and 235 points. Senior captain Thomas had 431 saves this season, with a .913 save percentage.
Graduating seniors Thomas, Gallo, Rueff and Jack Barry left a winning legacy for Randolph hockey and set a standard for the next generation to follow.
"I hope the underclassmen understand what it means to be a part of the team and carry on the legacy," senior Jack Rueff said. "The younger kids know that they have to step up and be leaders and fill those roles."
"I have full faith in these boys that if they just work throughout this off season and buy in next year that they can have success way beyond what we were able to accomplish this year," Thomas added. "I saw something special in this team from the start of the year, and I know that will continue to grow throughout their time with Randolph Hockey."