Opinion: We Need More Zero Periods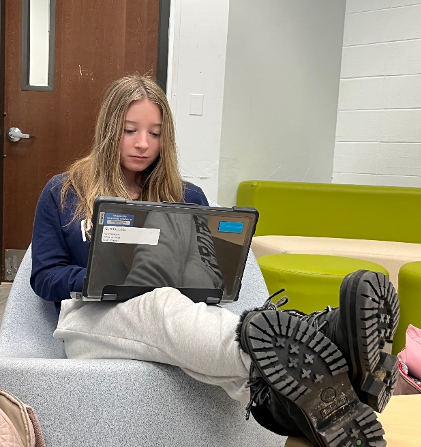 While some students choose to spend a Zero Period hanging with friends, leisurely enjoying every moment of their well-deserved break, others seek extra help from teachers or simply use the time to finish assignments. These students may be making up missed work due to absences, requesting extra help on especially challenging topics, or simply completing homework they may not be able to finish after school, given other commitments. No matter how students choose to use it, however, the monthly Zero Period is imperative for students' social, emotional and academic well-being, and we're grateful that this valuable gift of time is available to all members of the RHS community.
However, having only one 50-minute-long Zero Period a month is simply not enough for students to catch up on their schoolwork. The solution is simple: Add additional Zero Periods to the schedule. RHS students are consistently booked to the point of exhaustion, and this additional free time, even if it is used for socialization, is crucial for students' well-being. Having more of this free time to tie up academic loose ends would help make students significantly more productive during first block along with the rest of the day. Teachers cannot teach and students cannot learn if the students are completing work for classes other than the one they are currently in.
"Every college tour you go on emphasizes the availability of office hours, but for RHS students, that isn't something provided to us," senior Kayla De Brito said. "Before school is an inconvenient time to get things done, after school is worse and lunch gets too hectic with club meetings. The only reasonable 'office hours' we have are the Zero Periods."
After the completion of lectures and presentations, many factors can negatively impact how much work students can complete during whatever amount of time remains in class. These range from technologic snafus to unexpected (though necessary) disruptions like fire and other drills.
This lack of class time to complete work, coupled with intense sports schedules, rigorous college preparation work and much-needed after-school mental health breaks can lead to late-night homework sessions that interfere with the time that students had allocated to sleeping and recharging.  As a result, students often slump their way into school each morning, with their eyes half-closed and in no shape to perform to the best of their academic ability. "I feel like the first block of the day is kind of a throwaway," junior Lindsey Kudriavetz said. "We're tired, and we get significantly less done than we do in later periods."
With a large honors and AP population at RHS that constitutes a large percentage of the student body, Zero Periods toward the end of the school year around exam time have proven extremely beneficial. "I think the Zero Periods leading up to AP exams, are the most important," senior Maddie Brown said. "I took four APs last year, and the time I got in school to study for them helped me stress less about the exams and definitely contributed to me getting the scores I wanted."
Honors and AP students also tend to have no space left in their packed schedules for a Study Hall. "We just don't have time for one," said senior Andrew Berkemeyer, who attributed it to that fact that certain honors and AP classes are only offered at certain times.
With their heavy daily workloads, these honors and AP students often find themselves finishing homework, which may be Cornell notes, study guides or test review assignments, during other classes. Teachers of these classes obviously value the already limited amount of class time they have, and they do not appreciate students completing outside assignments during their specified teaching periods. Having more Zero Periods would allow these students to produce quality work that would increase their chances of scoring well on exams.
While administrators do see the value in having designated Zero Periods, they also feel that having more than one a month may be problematic or even unnecessary. "Instructional time is important, and disruptions are inconvenient for teachers," Dean of Students Lindsay Reilly commented. "When I look at the school calendar, I think there are a lot of opportunities [for catching up on work and decompressing] during Wellness Days and weekends, holidays and already existent Zero Periods."
For students, however, adding another Zero Period each month would mean giving them another opportunity to connect and seek the academic support that they might not have access to otherwise. As an added benefit, the ones who are not inclined to work during the period could take another much-needed mental health break to regain the motivation they need to continue learning and succeeding.
"It needs to be noted that we [students] have a hard time creating a balance between school and our social lives," senior Sarah Agostin said.  "We are forced to choose between either spending too much time studying and then staying up all night socializing, or prioritizing our socialization and then staying up all night studying. Zero Periods, no matter how they're used, help us remedy that balance."
Having more Zero Periods would allow students more opportunities to grant teachers their full, undivided attention in order to learn, flourish and thrive as students. The addition of more Zero Periods to the schedule is a no-brainer.