Girls Basketball Overpowers North Star Academy, 62-30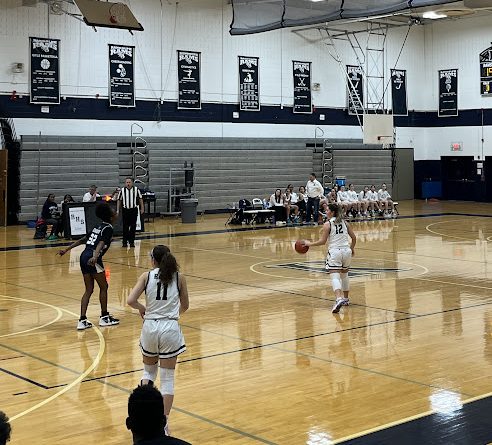 The Rams girls basketball team defeated North Star Academy at home on Friday, Jan. 27. The Rams held dominance for the majority of the game and ultimately prevailed with a massive, 62-30 win over the Knights.
"As a whole I feel that our team did well and everyone was able to showcase their abilities," senior caption Madison Jenisch said. "We shared the ball and lifted each other up after a mistake."
In the first quarter, North Star Academy came out strong, but the Rams were able to outrun the Knights for most of the quarter with stand-out offense from junior Katie Tighe. Point guard Kayla Brand showed impressive defensive positioning and scored a buzzer-beater during the final seconds of the quarter, leaving Randolph in the lead, 22-3.
The Rams continued to shine offensively in the second quarter, with standout plays from senior co-captions Madison Jenisch and Allyson Kuridza. Although North Star Academy was able to put a few more points on the scoreboard, the Rams continued to be powerful on defense through vigorous ball handling and their ability to force turnovers, leaving them on top at the end of the quarter with a score of 28-14.
"I feel this team was good and was a good matchup for us," Madison Jenisch said. "They had a couple of girls that we needed to focus on because they were scoring most of the points, which allowed our team to showcase our defense; something that we take pride in."
The next quarter was dominated offensively by Brand, Madison Jenisch along with Sydney Jenisch and Aliyah Lambo. North Star Academy became aggressive toward the end of the quarter, but the Rams were able to stay strong defensively.
Seniors Vivian Barry and Alexa Krone made solid passes throughout this quarter along with strong rebounds on the defensive end. Junior Maria LaPietra showed strength offensively as well as with defensive blocks.
Toward the end of the game, North Star Academy got aggressive as they attempted a comeback, but the Rams held them to a final score of 62-30.
"Although we have sometimes found ourselves playing some of the lower-level teams in our conference this year, we have also faced [tough, non-conference] competition like West Orange, Bayonne and Westfield," Sydney Jenisch said. "Considering how we have shaped up with those we have played, I think my team can hang with everyone. If we play as a team and compete the way I know we can, I believe we are up there for some of the top teams around."
The Rams followed up the North Star Academy win with two more, scoring 40-38 against Westfield on Jan. 28 and 52-31 against Roxbury on Jan. 30, bringing their season record to a remarkable 16-1. The team is also the number four seed in the Morris County Tournament, which begins at Morris Knolls on Feb. 4.
Before that, the Rams will face Morristown-Beard, on Wednesday, Feb. 1.