Choir and Band Ensembles Shine in Holiday Concert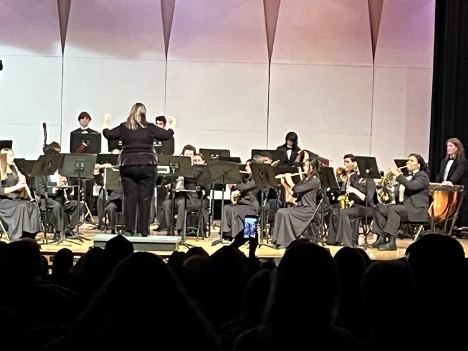 Ensembles from both choir and band performed at the final winter concert of 2022, held in the high school auditorium on Tuesday, Dec. 20. The concert featured a collection of holiday tunes that fostered an atmosphere of joyful holiday spirit among the audience.
Directed by Matthew Swiss, the A Cappella ensemble started off the concert with a classic performance of "The Star-Spangled Banner" by Francis Scott Key, followed by "Vuelie" from Disney's "Frozen," written and composed by Frode Fjellheim, and a stunning rendition of "Joy to the World" written by Isaac Watts.
Concert Band, directed by Michael Lichtenfeld, performed next, playing two pieces: "Hanukkah Dance (Sevivon)" arranged by Matt Conaway and "Hark! The Herald Angels Sing" with music by Felix Mendelssohn.
Treble Choir, made up of only soprano and alto singers, was the third featured group. Directed by Ann Kelly and featuring David Malysko as a collaborative pianist, their repertoire included "Glow" by Eric Whitacre and "Veni, Veni Emmanuel (Ero Cras)" by Michael John Trotta.
" 'Glow' was my favorite piece of the night," said one parent who was in the audience. "It really lived up to its name in that you could almost see the glow of the performers' energy."
Up next was Symphonic Winds, a band ensemble directed by Diana May, which provided a change of pace from the previous choir performances. The musicians played "Christmas in Spain" by Kevin Day and "A Hanukkah Festival" featuring multiple beloved Hanukkah songs by Chris M. Bernota.
" 'Christmas in Spain' truly captured the feel of the concert: bright and festive," said senior Mollie Ackerman, who played tenor sax with the band.
Choir performances picked right back up with Concert Choir directed by Swiss and accompanied by pianist Malysko, who sang chilling renditions of "Erev Shel Shoshanim" by Josef Hadar and "Past Three O'Clock" arranged by Cary Ratcliff.
Symphonic Choir ended the night with an unexpectedly spooky performance of "Medley from 'The Nightmare Before Christmas' " by Danny Elfman, which featured cherished pieces from films such as "This Is Halloween," "What's This?" "Kidnap the Sandy Claws" and "Oogie Boogie's Song." Choir members ended the breathtaking concert with the uplifting "Hope for Resolution" by Paul Caldwell and Sean Ivory.
When asked about the biggest challenge she faced to prepare for the show, sophomore tenor saxophonist Hayley Ross replied, "Making sure I was prepared to perform in front of an audience and be confident in my part."
The extraordinary talent and dedication of Ross and many other music students at RHS was evident throughout the night. They had clearly worked hard to perfect their program, as they had mastered the music, playing with admirable poise and expertise.
Beaming with pride, families and friends of the musicians were eager to see their loved ones after the show was over, and congratulate both staff and students on their spectacular display of talent and hard work.