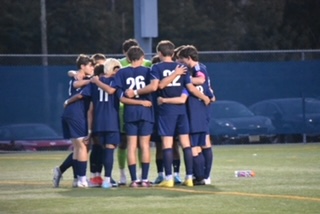 Randolph Boys Varsity Soccer secured another victory at home, this time over Roxbury, 2-1, on Wednesday, Sept. 27. This follows an away win against Chatham five days earlier and brings the Rams to 3-3 for the season.
At the Roxbury game, both teams came out determined to win, and all players fought aggressively over the ball. "As a team, we all wanted to come in and win this game; Roxbury has always been a big rivalry for years," said junior Bryan Garcia after the game. "We all came in with a big mentality of trying to win; it was tough at the end, but we all came in and succeeded with this game."
The Rams started the first half with the ball and took multiple shots on goal. In the first minutes of the game, Randolph put the score on the board, with a shot from junior Jayden DeCarvalho, who gave the Rams a lead. Sophomore Gavin Vichengrad saved shots that kept the Rams in the lead. Roxbury did not hold back and scored to tie the game.
Co-Captain Connor Rodrigues headed the ball in from another teammate's cross to make the score 2-1. "We worked together and created chances to score," he said.
"We moved the ball more in the middle and, up in the box, our attack was able to get more chances," sophomore Robert "RJ" Dougherty added.
During the second half, Roxbury attempted to score but "we locked down the defense," Rams Co-Captain Jack Grech said.
To make sure Roxbury didn't get another point on the board, "We had to make sure we double teamed their striker because it was getting us turned," Head Coach George Mousis commented.
"We stepped up our press on goal kicks and didn't let them play out of the back," Vichengrad added.
The Rams hope to continue their winning streak when they face off against Mendham next, at DaSilva Field on Monday, Oct. 2, at 4:00 p.m.