FBLA Club Welcomes BofA Assistant General Counsel Marina Belaya as Guest Speaker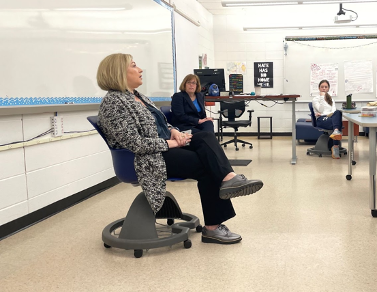 "I believe that it is valuable to learn about different professions and their requirements at an early age," said guest speaker Marina Belaya, an assistant general counsel at Bank of America (BofA).
Future Business Leaders of America (FBLA) welcomed Belaya to the high school on April 19, where she spoke to club members during lunch about her experience working in a typical law setting, namely that of BofA.
Belaya first summarized her background, which included attending SUNY Buffalo, where she received her master's degree in sociology. After that, she attended law school there and received her JD. After graduating, she worked as an attorney at a law firm in New York City, but then she chose to leave the fast-paced environment of the law firm to begin working for BofA.
"First, give yourself an opportunity to look at your education in broader terms to understand how it applies in the real world and what you can use it for," Belaya advised the future business leaders in attendance. "Second, provide yourself with a larger outlook on the range of areas you may be interested in and involved with, which is especially important in today's fast-changing work environment where new areas of expertise and new professions emerge on a regular basis."
Belaya then detailed her experience working in a typical law setting, addressing both its benefits and drawbacks. She acknowledged the difficulty of balancing home life with work, which is a common issue for those who work in fast-paced law firms. Despite the challenges of working as a lawyer, Belaya confessed that the hard work that is required to succeed is what makes the profession fulfilling.
Belaya stressed that in any profession that has to do with law or business, it is essential to have strong public speaking skills in order to be able to communicate clearly with others. Indeed, her own public speaking skills were evident throughout her talk.
Belaya left FBLA members with plenty to ponder as they look toward their future as business leaders and, before that, as college students preparing for careers in the field.