Featured Athlete: Ariyana Jackson, Girls Track Team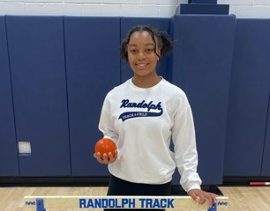 Senior Ariyana Jackson, the captain of the girls track team, has received exceptional results throughout her track career as a multi-event specialist where she competes in sprints, throws, hurdles and jumps.
This season is no exception. In county relays, Jackson threw 37 feet and 6 inches in shot put, placing in the USA's top 50. Her fastest hurdle time was 8.63 seconds in 55-meter hurdles, making her the top hurdler in the state. Last year, Jackson placed 19th in the country for hurdlers in Nationals, and this season, she strives to beat her prior record and rank among the top 15 in the country.
Given her amazing accomplishments and persevering manner, it comes as no surprise that Jackson was named captain of the girls track team last month. Jackson said she was delighted to learn on Jan. 9 that her goal of becoming captain had become a reality, as she had worked hard to show her dedication to the team and be a great role model.
"I have been working toward being captain since I first started track," Jackson said. "I looked up to the previous captains, and I knew I wanted to be just like them or something greater."
Jackson noted that she did not take being named to this position lightly; she knew how much responsibility came with it for herself and the team. "I want to make my team feel like they are in their own element, and I want them to feel confident in themselves and to keep working toward their own goals," Jackson said. "I know how it feels to not have anybody have your back, and I want my team to know that I will always have their back no matter what."
Jackson said she has big aspirations for this season; some are for herself, while others are centered around the team's performance. "The goals I want to pursue this year are to beat all my previous records and to overall leave the season with a good mark," she said. "I want to look back and know that I did this and say to myself that I really tried hard and that I worked hard.
"For my team, I want them to be happy," Jackson added, "and I want us to possibly win counties together, but if we don't win, I want them all to know that they had a great season and to be proud of themselves with what they did that year."
Jackson said her passion for track began at age 14 and culminated with her becoming captain of the girls track team this year. "I feel like I am an extremely valued member to the team as I always help my teammates out with technique and show great sportsmanship."
Her track career will most likely continue to grow after she graduates in June, as she plans to run track at the collegiate level, and is currently in talks with key college recruiters.